| | |
| --- | --- |
| WHOIS Asynchronous Pluggable Protocol | |
| | | | |
| --- | --- | --- | --- |
| Price: | FREEWARE | Discount for resalers | FREEWARE |
WHOIS: scheme for your Internet Explorer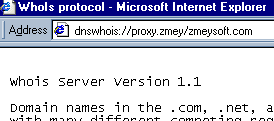 This little freeware is whois tool implemented as pluggable protocol handler for Internet Explorer.

You will be able to make whois queries from the query line of the Internet Explorer browser or using links in HTML pages, or using shell shortcuts. It queries server and displays result in the browser as HTML page.

Examples
dnswhois:zmey.com
dnswhois://rs.internic.net/zmeysoft.com
dnswhois://rs.internic.net:43/zmeysoft.com
It supports quering of the custom host. As you can see host and port can explicitly appear in the URL. Thus you can query any host or use that feature to make a query to internic's server through proxy mapping.

---