Binary and flat files
with ActiveX Pack1 ASP application is able to not just read/send binary files. They can be accessed as set of applciation defined records. And this is not limited to the files - any resource that behaves like file can be treated as like a DB table - memory streams, files, streams in OLE Compound files and so on.
Highlights of the day
Active Label ActiveX
Barcode ActiveX? Much more - the design and printing inside your WEB application
SQLite3 COM
SQLite3 COM ActiveX embeds the SQLite3 database engine and interface to it. Supports paremeterized views and triggers.
Active Local Pages 1.2
Write desktop apps in ASP and CGI. Create wutorun CDs using WEB technologies - yes it is possible!
ActiveX Pack1 family
Desktop Windows, CE/CE.NET and PocketPC! About 50 powerful components for all the Windows platforms.
AXGate 1.1 (new)
Script dafely any ActiveX in Pocket IE. Build applications in HTML and use local resources and components in them.
IE ScriptBar
Create complex toolbars for Microsoft Internet Explorer easier than you may have expected.
Licensing types legend
(M)
Single machine license
(U)
Unlimited per-company license
(D)
Unlimited development license
(S)
Special type of licensing

Active visitors
36
Suggested links
Suggest this page to the other visitors. Click the button below to place this page in the list above .


| | |
| --- | --- |
| WHOIS Asynchronous Pluggable Protocol | |
| | | | |
| --- | --- | --- | --- |
| Price: | FREEWARE | Discount for resalers | FREEWARE |
WHOIS: scheme for your Internet Explorer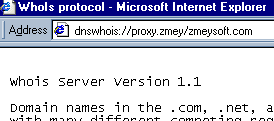 This little freeware is whois tool implemented as pluggable protocol handler for Internet Explorer.

You will be able to make whois queries from the query line of the Internet Explorer browser or using links in HTML pages, or using shell shortcuts. It queries server and displays result in the browser as HTML page.

Examples
dnswhois:zmey.com
dnswhois://rs.internic.net/zmeysoft.com
dnswhois://rs.internic.net:43/zmeysoft.com
It supports quering of the custom host. As you can see host and port can explicitly appear in the URL. Thus you can query any host or use that feature to make a query to internic's server through proxy mapping.

---